Having been in the industrial painting industry for several years, our team here at MJJM can offer you a wide range of services, including roof cladding, but do you know what it is? How is it installed? Why every commercial and industrial building needs roof cladding? Our team have put this blog together to help you understand why is it important to have your roof cladding refurbished; having this knowledge will help you determine whether or not you require services such as ours here at MJJM. 
Roof cladding refers to the material applied to your roof that offers a protective layer; we do this by using painting machines and spraying the cladding onto your roof. One of the most significant benefits it can provide your roof is a waterproof solution that projects your roof. Every commercial or industrial building requires cladding to help protect your property. 
With a wide range of cladding materials available such as concrete, asphalt, slate, clay and terracotta, using a spray paint system allows us to offer our services to everyone who has a cladded roof; the spray paint allows for easy application that is a smooth and high quality every time. If you would like more information, reach out to our team today, we are always happy to help.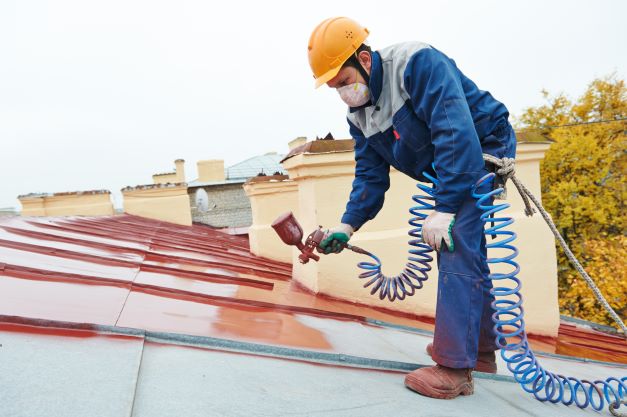 Did You Know Your Cladding Will Become Tired and Faded Over Time?
Cladding is one of the most robust and studiest materials on the market within the industrial building sector, but it does, like everything, get tired and old over time; it is not a material that will last a lifetime, that is, unless you look after it. When you first have the cladding installed on your building, it will look fresh and modern and give your building an overall new look, but without the proper care, this will not last the British weather system. 
For example, due to the weather conditions we are subjected to over the year, such as heat, rain, freezing temperatures and snow, your cladding will severe battering over time; this is one of the most important reasons to have your cladding refurbished or repaired by professionals. Without refreshed cladding, it will become tired, old looking and faded over time, giving an unprofessional look to anyone who visits your commercial or industrial premises.
Have You Considered Repainting Before Replacing?
When you notice your cladding has seen better days, do not rush to find a company to provide you with new cladding; consider contacting a team like ours that can refurbish through painting. Cladding, especially if made from metal, is not that expensive to buy, but why waste the materials when you can have the one you already have installed repainted and refreshed to look brand new again? Repainting is much more effective not only for the company accounts but also for the environment. 
Painting your metal cladding can, without a doubt, add around ten years of life extra before it will need to be looked at again; the paint our team uses here at MJJM will help protect your cladding from rusting, corrosion and also any damage created by the UV rays. If you weigh up the differences between having your cladding replaced or repaired with a paint solution, you will find that having it painted will provide you with a much more cost-effective approach.
How Our Team Can Repaint Your Cladding
When it comes to the cladding painting service, we offer you a few things to choose from; for example, we can provide our cladding painting in a range of colours and suit a range of materials, making it an accessible service for everyone who requires it. Whether you choose the cladding colour based on your business identity and brand or whether it is to fit in with the surrounding landscape, our team can help you. 
Specialising in spray painting, we will always provide you with a cladding service with this method, meaning it is quick and efficient and finished to the highest quality. Using spray painting methods has worked for us over the last several years, and we are confident you will love the finished product. 
Preparing The Cladding For Painting
When it comes to having your cladding repainted and refreshing, ensuring the preparation work has been carried out to the highest standards is the first thing you should always ensure. Our team will make sure all of the dirt, debris, and any corrosion has been cleaned and removed in the best way we can; this needs to be done before the paint is applied; otherwise, you will not receive a smooth finish. 
It needs to be said if this is the very first time you have your cladding painted, our team will need to add a primer beforehand; this is the same as if you are painting walls in your home; a primer will allow the paint to be applied smoothly and help it adhere. Not only does it help the paint adhere to the surface, but it will also provide another layer of protection as well.
Choose The Right Paint Colour For You
With paint colours varying so much you need to make sure you choose the right paint colour for you, it is not required that you choose the same paint colour as you previously had, it can be a completely different one, but we recommend choosing something that will help with brand awareness. Or possibly a colour that will blend into the surroundings of your industrial building to make it less of an eyesore, but don't stress, our team can provide you with any paint colour you are looking for. 
Whichever colour you settle on, our team can help repair your existing cladding and make it look brand new; why would you not want a brand new looking cladding on the roof of your building?
Choose MJJM For Cladding Painting Today
 If you need cladding repair or refurbishment, don't hesitate to contact MJJM today. We have the experience and expertise necessary to get the job done right, and our team is always available to answer any questions you may have. We help you breathe new life into your building with our top-quality cladding services, we can even offer your fireproofing services! 
Our team have been offering cladding painting services for several years; during this time, we have built up a reputation for offering the best in the industry; get in touch today to find out more!