There are many reasons why you might want to add cladding to your industrial building. Perhaps you are looking for a way to improve the appearance of your property, you can do this in many different ways from Industrial Painting, Cladding, Industrial Steel Framework, or even replacing your Door and Windows and the team at MJJM are experts in them all. Whatever your reasons, it is essential to consider all of the options before deciding. In this blog post, we will discuss some of you need to think about before cladding your industrial building.
What Is Cladding?
Cladding is a type of siding typically used on buildings to improve their appearance or protect them from the elements. There are many different types of cladding, including metal panels, wood panels, and vinyl siding.
Industrial cladding is different from the cladding you might see on a residential property. Industrial cladding is designed to protect against the harsh conditions often found in factories and other industrial buildings. It is typically made from metal, plastic, or fibreglass, and it can be painted in any colour you choose.
Why Clad Your Building?
There are many reasons why you might want to clad your industrial building. Some of the most common causes include:
To improve the appearance of the property – Cladding can be used to make a building look more attractive, and it can help to hide any damage or wear and tear that might have occurred.
To protect the building from the elements – Helps save a building from the wind, rain, snow, and hail. It can also help to keep out insects and rodents.
To reduce energy costs – Helps keep a building warm in the winter and cool in the summer, leading to reduced energy costs.
To comply with safety regulations – Many industrial buildings must comply with safety regulations, and cladding can help meet these requirements.
How Much Does Cladding Cost?
The cost will vary depending on the type you choose, the size and shape of your building, and the contractor you hire. However, in general, cladding is not a very expensive option. It can be a great way to improve the look of your property while also protecting it from damage.
Things to Consider Before Cladding Your Building
Before you decide to clad your building, there are some things you need to consider. Here are a few of the most important things to think about:
The Climate – Cladding can be very effective at protecting a building from the elements. Ensure that the cladding you choose is appropriate for your region's weather conditions.
The Type of Building – Not all buildings are suitable. Ensure that your building has enough space for the panels and access to power and water.
The Style – There are many different styles available, so you need to choose one that will match the style of your building.
The Contractor – It is essential to choose a qualified contractor who has experience installing cladding panels.
Cladding can be a great way to improve the appearance and functionality of your industrial building. Before deciding, make sure you consider all of the options and talk to a qualified contractor.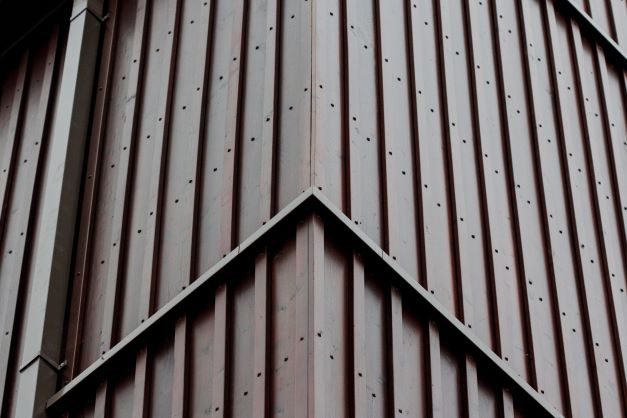 What Are The Best Cladding Materials?
Many different materials can be used for cladding, but not all are suitable for industrial buildings. Some of the most common cladding materials include:
Metal
Metal roof and wall cladding is the ideal solution for industrial environments. This material offers protection from harsh weather conditions, stormy winds, and pollution because it's non-combustible! Steel also withstands sunlight or wind without sustaining any damage, which makes this type of construction perfect in locations where there are high-risk factors such as farming heavy industry like steel production plants may create
Aluminium
Aluminium is a popular choice for an industrial environment due to its lightness, durability, and low maintenance.
Aluminium offers many benefits that steel does not include corrosion resistance which can be crucial in harsh environments where other materials would quickly wear out from exposure if used on their own without protection such as paint or coating treatments.
Aluminium also has better strength-to-weight ratios, making it easier for designers who need more flexibility with design requirements while maintaining high levels of performance standards.
Terracotta Tiles
are a beautiful and durable material used in an industrial setting. They offer many thermal benefits, making them environmentally friendly as well!
You Need Professionals!
When wanting to clad for building, it's essential to use professionals because there are many factors to consider, and incorrect installation can lead to water leakage, weather damage, and even a fire hazard.
The best way to avoid these problems is by using a professional contractor who has experience installing cladding on industrial buildings.
We specialise in the cladding of industrial buildings. We have the knowledge and expertise to help you choose the correct cladding for your facility, and we can also take care of the installation for you. Contact us today to learn more!
Still Unsure?
Cladding is a crucial decision for any industrial building, and there are a few things to consider before making your choice. We've outlined the most critical factors above, but if you have any other questions or want help finding the correct cladding for your business, don't hesitate to contact our team. What type of cladding will best suit your needs? How can you be sure that it will meet safety and fire regulations? And finally, what kind of maintenance and upkeep will be required? By asking yourself these key questions, you'll be well on your way to making the right decision for your industrial building. For more information on this topic check out this page by Designing Buildings.
Your building is an investment, so down cut back on keeping your building in the best condition. It not only protects your building from the environment but can also improve its appearance, making it more inviting for employees and customers alike. If you're considering working on your industrial building, be sure to contact us for professional advice!